Underwater Sun Shot
Ever wonder what the sun looks like if you're a fish?
The 1997 Canadian National Fly Fishing Team
A team photo, courtesy of D&M Rods, Ontario, Canada
Stupendous Sunset!
This is a fabulous Mexico waterscape sunset. Makes me want to go on a long vacation.

Freshwater Fishing
Saltwater Fishing
Fly Fishing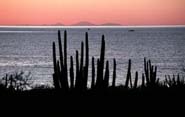 The Bamboo Fly Rod
A review of a new magazine devoted to bamboo fly rods.
RodMaker Magazine
A review of a great new magazine as well as a look at some other resources available
Pro Secrets
Why pro fishermen catch fish when the rest of us don't.

The Custom Rod Builders Guild
A new organization to help professional rod builders master their craft, and market their work.


G. Loomis -the best is always expensive.
Lamiglas - for the best fiberglass rod blanks
St. Croix - cheap but tolerable
Shakespeare - cool lookin' with a cool history too!

Struble - beautiful nickel silver reel seats
Fuji - check out their range of guides, reel seats and handles.
Perfection - an alternative source for guides